Now a common word in our vocabulary, the August 10, 2020, Derecho will certainly go down in the history books as one of the most destructive and costly weather events our great state has ever seen.

The Derecho ravaged our area for 45 minutes with winds in excess of 120 miles per hour equivalent to a category 3 hurricane. Many communities suffered catastrophic damage to nearly all essential services. The devastating loss of 65% of the areas tree canopy only compounded the damage on a scale this area has never seen. Sadly, three people lost their lives and thousands were left homeless and without access to food, water, and other essential items. The devastation tore through thousands of homes and destroyed our critical power and communication infrastructure.

With no power and little cell service, our founder and president, Raymond Siddell launched the Iowa Derecho Storm Resource Page.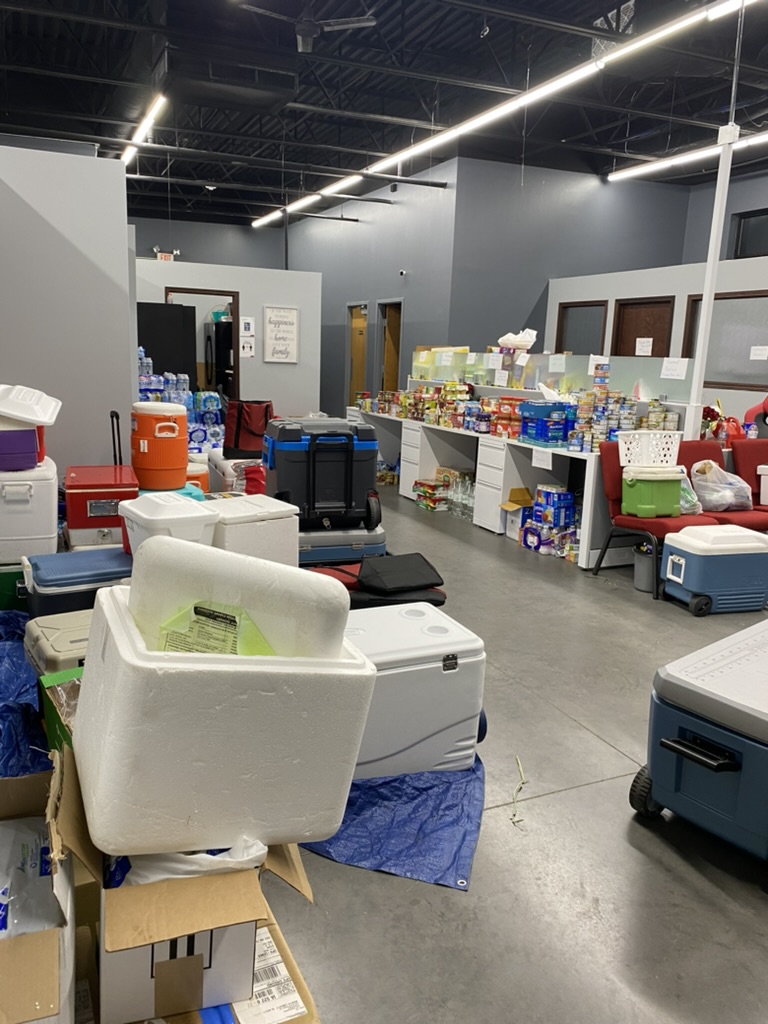 The original intention of this Facebook group was to connect people who needed resources to other people who had resources. 
Little did he know the members of this page would grow from a few hundred to over 60,000 members in a short time. 
As the popularity of the page grew, it was evident that there was a great need for essential resources and a desire of those unaffected to help.  Raymond then had the foresight to create a trading post of sorts in the parking lot of his real estate brokerage, and through the kindness and hospitality of Michelle Bennett and the Keller Williams Legacy Group. 
As donations poured in from all over the country – the corner of the parking lot soon took over the entire real estate brokerage in a matter of days.  Hot meals were prepared daily and at its peak, thousands of meals were being served. 
Just as quickly as donations came in, affected residents would stop by and get any items they needed including tarps, fuel, ice, water, food, toilet paper, paper towels, and many other essentials. 
The center then sought a larger location and relocated to two vacate storefronts across the parking lot from the brokerage. 
It became evident that this second location was severely inadequate for space and the Iowa Derecho Storm Resource Center was granted an extreme grace of hospitality from the McGrath Family.
The Iowa Derecho Storm Resource Center relocated to 4001 First Avenue SE; the former McGrath Ford Service Center owned by the McGrath Family of Dealerships.  Here the Resource Center had ample space to warehouse the thousands of supplies, continue to cook hot meals, operate the chainsaw loan program. 
In its early days of triage, supplies were given out to anyone in need with little to no tracking to help those affected as quickly as possible. 
As the need continued, tracking systems were implemented to track food and supplies distributed, with few barriers and NO qualifiers. 
Services were streamlined to efficiently serve as many people as possible.  Pre-packed food bags were assembled by dedicated volunteers and were handed out as fast as they were built.
There was always a desire to offer clients the ability to select their own items, however, while in the midst a pandemic and still trying to simply handle the throngs of people, that was not possible. 
In December of 2020, the impending sale of the McGrath building was set to close, and the Iowa Derecho Storm Resource Center was again on the hunt for a new home. 
During the search for a new home, our founder along with some of the most dedicated volunteers saw the need to establish an 501(c)(3) non-profit. The non-profit was officially named Together We Achieve.
With a huge social media push and the help of countless news outlets, Bass and Bass Associates approached Together We Achieve with a desire to maintain and support the cause.  Bass and Bass, saw the need was real and emergent and was able to offer a new home.
Now located at 1150 27th Avenue SW in Cedar Rapids, Together We Achieve, operating the Iowa Derecho Storm Resource Center now has a permanent home and boasts over 17,000 square feet of space to use as a base for its programs. 
The dream of clients selecting their own items specific to their family's needs became a reality by offering a choice pantry that operates six days a week and serves hot meals two days a week. 
The Resource Center remains low barrier and open to those in need. For more information regarding the current operations of the Resource Center, click here.
Let us know how we can help